Local walks are run on weekends during term time. They are open to anyone and no membership is required, however due to the social distancing regulations we used a sign-up system with a maximum capacity of five participants (plus the leader). Sign-up for walks on each weekend opens on Monday of each week, and will be circulated via our mailing list.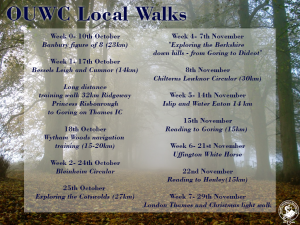 Please note the following schedule is tentative; further walks, modifications and further details will be added as the term progresses.
Freshers' Walk: Banbury Figure of Eight, Saturday 10th October
Seven Shires Way Part I, Saturday 10th October
Freshers' Walk: Exploring Oxford and beyond, Sunday 11th October
Bessels Leigh and Cumnor, Saturday 17th October
Final Stage of the Ridgeway, Saturday 17th October
Wytham Woods Navigation Training, Sunday 18th October
Blenheim Circular, Saturday 18th October
Exploring the Cotswolds, Sunday 25th October
Navigation Training, Sunday 1st November
Otmoor Bird Sanctuary, Sunday 1st November
Exploring the Berkshire Hills, Saturday 7th November
Chilterns Circular, Sunday 8th November
Islip and Water Eaton, Saturday 14th November
Reading to Goring, Sunday 15th November
Uffington White Horse, Saturday 21st November
Reading to Henley, Sunday 22nd November
Great Malvern, Sunday 29th November
Marathon Walk, Sunday 29th November
Note: The crossed-out walks were cancelled due to the second National lockdown. During this time a WhatsApp group was set up among members to arrange informal walks in pairs, and a page of suggested walking routes around Oxford was set up for members to try.