Each weekend we have two local walks which people can attend totally free of charge! We have tried to organise both short and long distance walks to allow all levels of experience to attend. Some walks require booking your place through SuperSaas, to judge the interest. Most short walks will not require booking in advance – just turn up on time!
The term card for HT 2023: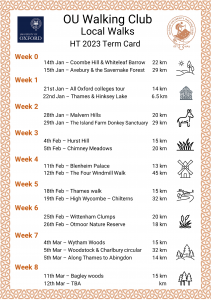 The walks may be subject to change, however, we will try to avoid that. The most up to date information will be in the weekly mailout.